Lavender fields in Provence: secret tips by a local
-
Where to see lavender fields in the south of France? This is the question everyone asks me when they come to Provence in summer, hoping to see lavender fields rippling in the blazing sun. Lavender truly is Provence's purple gold and one of France's most beloved attractions. But where to find the most beautiful lavender fields in Provence? Not only the famous ones, but also the secret spots, where you will get the lavender shot no one else will have? Trust me, I'm a local: I was born and bred in the heart of Provence and I still live here – lavender actually grows right by my doorstep. This is a genuine insider guide to southern France's lavender fields, written by a French woman in love with those picture-perfect blooms.
We'll start by visiting the most beloved and well-known lavender fields, the ones which attract tourists from all other the world. But then, I will guide you through secret locations I have come to discover during my long hikes and road trips through Provence. We'll basically go decrescendo, starting with the locations with the highest numbers of visitors, and ending with the most secret spots to enjoy and photograph lavender blooms.
Where to see lavender fields in France – best lavender fields in Provence – most beautiful lavender fields in Provence – secret spots lavender fields – lavender fields France – insider guide to lavender fields – lavender fields provence blog
First a very important plea from French farmers: please don't pick the lavender. They're not planting it for the gram, it's their job and income. Picking flowers is stealing somebody's work. If you want to take great shots with lavender flowers in your hand, you're most welcome to buy little bouquets in souvenir shops for a low price!
The world's biggest and most famous lavender fields: Valensole


Lavender fields in Provence blog – lavender fields secret spots blog
Those fields are so endless the horizon is tainted in purple. You'll find the longest lavender lines in the world, and the highest number of acres covered in flowers. This is truly a photographer's dream… so much that it's also Provence's most touristy spot at the end of June, when we reach peak bloom. It will be hard to take a shot without having a considerable amount of people in it – even at sunrise or sunset, even during week days. This is why you'll find most secluded spots down below this post.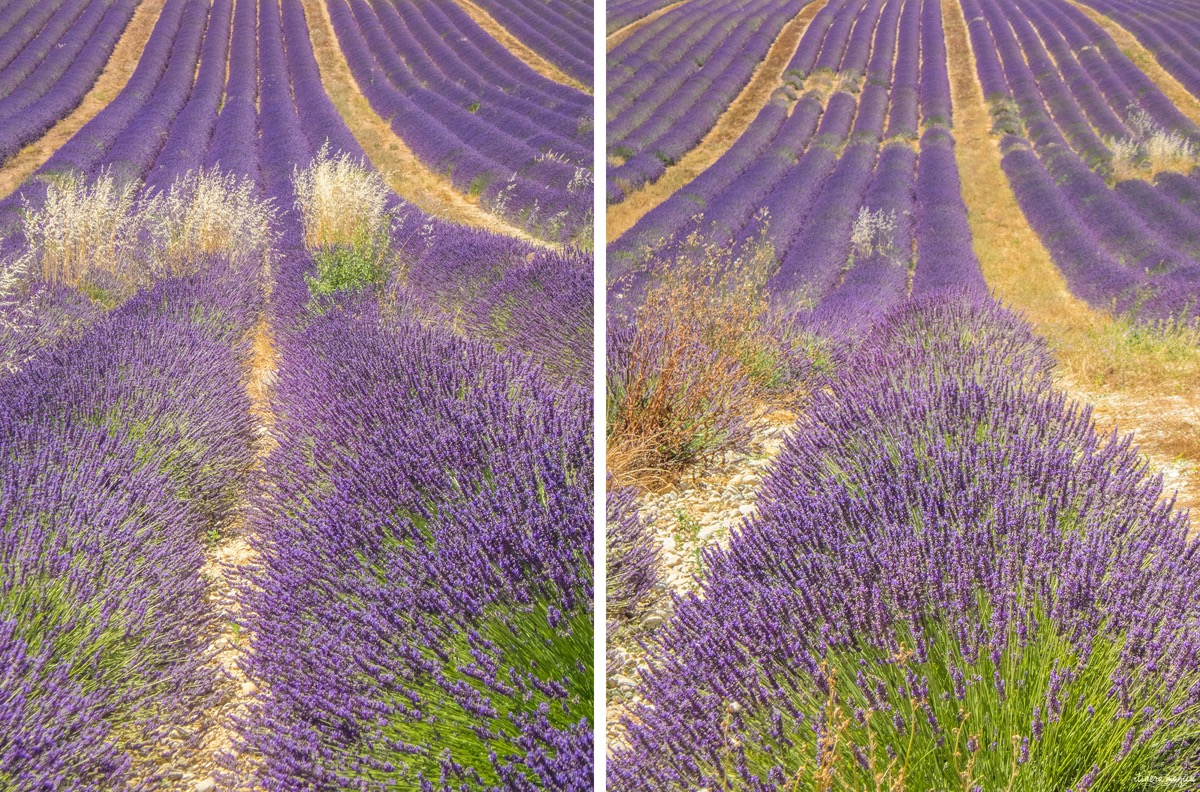 A perfect postcard: lavender in Sénanque
The Abbaye de Sénanque, in Vaucluse, is a medieval abbey founded in the 12th century – monks do still live there, work, pray and grow lavender. Seeing the purple-clad church at the beginning of July is truly a wonderful sight.
The late­-bloomers: lavender in Sault, Ferrassières, Aurel
Has lavender already been cut in Valensole and Sénanque (early to mid-July, depending on the heat), and you've missed it? Dry your eyes and go to higher elevations. In some places, you might be able to see lavender until around mid-August. The fields surrounding the hilltop villages of Sault, Ferrassières and Aurel, in the heart of Vaucluse's mountains, create a truly wonderful mosaic of purple hues, the villages offering scenic terraces to behold them, which can last longer than the ones in Valensole and Sénanque.
Can you see lavender in bloom in August in Provence?
I often receive e-mails asking me if it's possible to see lavender in bloom in August. The answer varies from year to year: during very hot summers, lavender will be cut earlier, but if it has been a bit rainy and colder, lavender season might last a little while longer. The higher in elevation you will go, the better your chances will be. Those spots I've just mentioned – Sault, Ferrassières, Aurel – are probably your last chances to see lavender in August, because they are mountainous regions and grow a breed of Alpine lavender which blooms a bit later. But I don't want to make any false promises: later than August 15th, it will most probably be over absolutely everywhere. You can console yourself with the lovely scents of the soaps, bouquets and essential oils!
Although you cannot compare the number of tourists with those in Valensole, those places can still get pretty crowded in the week-ends. This is why I suggest you to keep driving North.
Secret lavender fields in northern Provence: visit Drôme!
Most beautiful lavender fields Drôme – best lavender fields Drôme – northern provence lavender
The Drôme is the northernmost department in Provence and also the one most travelers tend to forget. But do believe me: you'll find it as beautiful as the other locations, at the very least. Let me even confess that these are my favorite spots.
A few kilometers north of Sault and Aurel, you'll find yourself in Montbrun-les-Bains, which officially ranks among France's most beautiful villages. Take a bit of time to discover the village, and enjoy gorgeous lavender fields with the famous Mont Ventoux in the background. This is also a mountainous, late-blooming location.
Discover our regional natural park Baronnies provençales. In this remote, truly authentic corner of Provence, agriculture has always been part of our people's history and culture, and lavender is omnipresent.
The area around Nyons is a great spot to behold and capture lavender. (These places are early bloomers: late June will be perfect.) My secret tip would be to go around the village of Venterol, where you will find ancient olive trees.
Two hilltop villages will offer great compositions with lavender in the foreground: Grignan and La Garde Adhémar. Both also rank among France's most beautiful villages.
I love the spots around La Roche Saint Secret, Bouvières, Saint Ferréol: lavender fields rising on slopes so steep they seem to be vertical. This is Manhattan for lavender. And there won't be a soul around – you'll get all the time in the world to frame your perfect shot.
Lavender fields in Ardèche
Ardèche isn't part of historic Provence – what once was the kingdom of Provence, in the Middle Ages. But in terms of climate and agriculture, it's exactly the same, and few people know that lavender also grows by the dozens in southern Ardèche. Start your lavender tour in Viviers, continue towards Bourg Saint Andéol and then Saint Remèze, where you'll find a beautiful lavender museum. You'll be rewarded with beautiful empty lavender fields. This is where we took our wedding pictures with my now ex-husband.
While you're in Saint Remèze, don't forget to visit Northern's Provence gorgeous canyon, the Gorges de l'Ardèche ! But this will be topic of another post… Hope you enjoyed this purple ride!
Sharing is caring – if you've enjoyed this post about the best and most beautiful lavender fields in Provence, please share it or pin it! Follow me on Instagram for more adventures in the South of France.
Did you enjoy this post?
Please share it or pin it!

-
---
To keep track of Itinera Magica's travels, please like our Facebook page Facebook
or subscribe to our newsletter
---
Thank you for your support, and see you soon!
51 commentaires pour
"Lavender fields in Provence: secret tips by a local"
Lovely photos! Makes me want to visit Provence soon!

Stunning is an understatement. I hope to use you tips to visit sometime soon!!!

Gorgeous photos! we arrived late and missed all the lavender fields:-( Bookmarked your post for a future trip:-)

THIS IS INCREDIBLE! I must confess and say I've never heard of these only come to find out there's so so many and they're all so so beautiful. Thanks for leaving us your secrets even though I know that was probably hard to do.

Wow, what stunning photos! Thank you for sharing your secret local spots. I would love to visit Provence at the time of lavender bloom. Hopefully next year! 🙂

Oh my gosh I am DROOLING all over this post! Seeing the lavender fields has been my dream since forever, and I KEEP missing it. One summer I was so close. I was in Provence maybe 2 weeks before peak bloom season, and even though my guide assured me we'd see some, I left very disappointed. Hoping to make it a reality this year!

I had no idea that there were so many lavender fields in Provence – it looks like such great trip! Brilliant guide and so many insider tips.

The lavender fields are absolutely gorgeous and I can't believe how large they are! I would love to visit Privence one day and experience the lavender season myself. The aroma in the air must be so dreamy!

This is my dreamy place <3

I love th photos of the lavender & sunflowers, but especially your wedding photos! Congratulations! I would love to see the lavender with my own eyes soon!

Ahhhh this is the best! I've beeb wanting to visit the lavender fields in Provence for such a long time and this is the perfect post. I love how many local spots you've included (and hopefully they remain that way). I have pinned this so I can refer to it when I'm back in France. Thank you. Also, gorgeous wedding pics!!

I have been lucky enough to tour the lavender fields in S.W.Ontario Canada, England including Yorkshire and some in Ireland and France is next on the list. Lavender has to be my favourite fragrance and I have enjoyed lavender scones, lavender lemonade, lavender scones and of course using the Herbs de Provence. I will be visiting the lavender fields in France next summer and will be using your post as a guide to my trip.

Wow, these photos are unbelievably pretty! I actually haven't been to provence but if I do I will definitely be making a trip to these fields 🙂

The lavender fields are absolutely gorgeous and I can't believe how large they are! I would love to visit Privence one day and experience the lavender season myself. The aroma in the air must be so dreamy!

OMG! The lavender field of my dream! Thank you for sharing the tips from local! Hope someday I could visit this place in person! These photos are so amazing!

Thank you so much!

Beautiful photos and tips – I wonder do you know where either the famous shot of a windmill or the little chapel in the lavender area are taken… it claims Valensole but I never saw it last year when I visited.

There are several such little chapels amid lavender fields in Provence, but yes, there's one in Valensole indeed – it's a little aside from the main road, not so easy to find if you don't know, I should put GPS coordinates next time I go there! Thanks 🙂

Thanks for the information! I was wondering if you could share more information about how to visit the lavender fields in Viviers. That's the closest I can get to the lavender fields but haven't been able to find any information on how to visit the lavender fields in Viviers. Merci beaucoup!

Hello Lindsay! If you have a car, it's really easy, just drive along the river Rhône south of Viviers, you'll find tons of lavender fields here, with a beautiful scenery (cliffs) in the background! If you don't have a car, you can still do that with a bike, but I think it would take you to long to go by foot! Have a nice trip

Je ne m'attendais à voir ce post quand je suis allée voir tes articles en anglais, mais il tombe à point nommé : la semaine prochaine : à moi la lavande et la Provence <3 pour la toute première fois en plus, donc j'ai hâte ! Alors merci pour ces super tips 🙂

Hi! The pictures look gorgeous!!! I will be in Provence from 18-20 August. Will I be lucky enough to spot some lavender fields up north on 18th august?? I would be soooo gutted if I couldn't :/

You could try around Sault but it's really really late in the season, I hope you will be lucky… crossing fingers for you!

Simply amazing, breathtaking captures! Thank you so much for the insider tip-offs:)
I have been wanting still the lavenders of Provence foreverrr! I'm going to be around the Montpellier area this year from 1st August 2018 for about 1 week or so and was sooo deeply hoping to catch the lavenders still in bloom. As it will still be early August, do I stand any chance? If so, do you have any advice as to where would be the best place/s I should head to where I might be able to catch them still in bloom around 3rd August?

Thank you Ashly! The place I know for sure is Sault: you will still have lavender in bloom early August up there. As for other places, I'm afraid I am not sure… not around Montpellier anyway, it's not a lavender region and the few fields you would find there will have been cut already.. sorry about that! I hope you will behold the violet glory elsewhere!

We visited sault today. The fields were harvested there but there were lavender fields along the route from banon to sault. We stopped in a field. It was beautiful. I didn't want to leave. Heavenly sights, sounds and smells. Thank you for excellent directions/tips!

Thank you so much!

We visited sault today. The lavender there was harvested but we saw beautiful lavender fields on the road between manor and sault. We stopped in one and I didn't want to leave. Magical sights, sounds and smells. Thank you for great directions!

Thanks for this info! I'm planning a Provence trip for the last week of May. Is there any chance of me seeing the lavender in bloom that early?

Hello Jackie! You won't see it in full bloom, but you will see buds and it will begin to look nice! I would suggest to seek the lowest elevations and the sunniest places. If I remember right, the first field which was in bloom last year (2018) was in Pernes-les-Fontaines in Vaucluse – I would say Vaucluse and Valensole, will bloom earlier than other locations. Good luck!

Love the article, Can you please suggest if there would be any bloom during 15th and 16th of June 2019 ? We are planning a trip across provence.

It will be the beginning of the bloom, yes! Enjoy 🙂

Thank you for writing this article! Can't wait to be there in a week! I especially love the lavender fields on the valley. Where did you get that shot? You must be up on hill. Thanks !

Hi! Thank you for this lovely article! Really appreciate it 🙂
Do you think it's possible to visit any of the places you mentioned without having a car? Using public transport until a certain point and then renting bikes maybe?
Thanks!

Hi Madhu! I am so sorry, I couldn't help you with that, I am always driving myself… Provence is really not big on public transportation. Ask the tourism board, they will know!

Great article! You've really provided very valuable information that other blogs don't. I'm visiting the Provence region tomorrow and not sure if any areas would have lavender in bloom. Could you please suggest which areas could I visit to see lavender. I'm renting a car and loving in Casis.

Hi! You're a bit early, the bloom has just started. In Valensole it's still very green. I would go to low elevations. Around my place in Drôme provençale (La Garde Adhémar, les Granges Gontardes), the bloom is more advanced, it's purple already!

Hi, I'm so happy I came across this post! I am going to France August 19th and was hoping to make my way down south from Paris to see the lavender fields. Do you think any will still be around during that time frame?

No, I am sorry, it's too late. But there are many other beautiful things to see 🙂

Coming to see the lavender July 19-24. Can u suggest best place and how best to contact you

You absolute superstar!
This article was spot on – keep driving! Even for 40 seconds, KEEP DRIVING!! The fields are amazing and the scent is deep and intoxicating.
I went only 3 days ago, early July 2019.
Managed to see the sunflower field right in between two lavender fields. AMAZING!!!
Thank you for writing this article, this girl from New Zealand is still smiling. Xx

Thank you so much for your comment! I am so happy you liked it!

My family will be driving from Chamonix to Carcassone on August 11th and 12. My four kids are really hoping to see the lavender fields. Will there be any still in bloom at this time?

Maybe a few ones around Sault… maybe! But most are cut already by now, mid-August is really late in the season

Hi Itinera Magica,
Thank you for the very informative article. We are driving tomorrow (3 August) to see the Lavender fields. Would you by any chance know if we can find any fields which are still not harvested in Sénanque or is it too late now? Or the ones in Sault, Ferrassières, Aurel? Is there any website which shows such kind of information. Thanks.

Bonjour, Merci pour ces superbes photos et pour tout ce que vous faites pour faire aimer la Provence.
C'est top! Jean-Marc (Verdon Secret)

Merci, cela me touche beaucoup !

Incredibly good article with great insider information! many thanks.

Could you please advise whether we would be able to see the fields blooming during the second week of June 2020?

All the best.

Hi! Spring was very late this year so I don't think there will be much bloom so early. Try for the lower elevations, don't go into the mountains! Hope you'll enjoy 🙂

Hello, I would like to visit these farm to see the harvest and destilery process. Could you pls share their name, website or anything so I could get in touch with them? Thank you very much.

Hello Renata, I advice you to contact "L'essentiel de lavande" in La Bégude de Mazenc. You can visit, see the process, buy products, have a lavender oil massage, etc. It's really a nice experience.
Leave a comment
---