Secret paradise: Europe's only nudist island, Le Levant
-
Better than just a nudist beach: a whole nudist island in France
You've probably heard of France's famous nudist beaches, but did you know we had the only nudist island in Europe right here on the French Riviera? Just imagine: Provence's typical old world charm, French Riviera's palm trees and clear waters, and naked people everywhere on this colorful, authentic little island. Here the sixties have never died. Welcome to Le Levant, also called "île du Levant" (island of Levant), South of France's nudist version of paradise. Its name means: island of the rising sun.
Nudist beach in France – nudist island France – Le Levant -île du Levant – nudist beach on the French Riviera
Le Levant: an island on French Riviera's southernmost point
Did you know that the French Riviera's southernmost city, Hyères, lied on the same latitude as Florence in Italy? It's the French version of dolce vita: no frost ever comes to kill the palm trees and orange blossoms which bloom in the heart of a very mild winter, and tropical plants thrive under this sunny climate. But the famous three islands belonging to Hyères lie even further South in the Mediterranean Sea: Porquerolles, Port-Cros and Le Levant are French Riviera's insular beauties. One is even more special than the others. Welcome to the "Ile du Levant", where people have gotten naked since the 30's.
The oldest nudist village in Europe
It all started in the thirties with two brothers and doctors, Gaston and André Durville, who believed that people needed to break free from the pressure and pollution of big cities and find a renewed connection to nature. Living right under the sun, by the sea, naked, was understood as the real medicine to heal body and soul. So they founded the nudist village of Heliopolis on this little island.
Roaring sixties: all French stars stripped down in l'île du Levant
After WW2, the island Le Levant gained in fame and conquered a high rank among the dreams and fantasies of French people. They called it "the island of naked women" and "a new Eden" in many movies and books. Soon French stars came here to feel free, to walk around naked in peace at a time before social media ruined it all 😉 Heliopolis, the island's hilltop village, retained the echo of these glorious times : it's colorful, joyful, full of art galleries, theaters and naked yoga classes despite its small size.
The island Le Levant today: natural paradise
Le Levant is a paradise for nature lovers. Dozens of cacti enjoy the long summers, palm trees throw their shade on the little paths, wild flowers grow everywhere, and the highest slopes of the island are covered in cane-apple bushes, which are really typical of Provence. France's oldest maritime national park, Parc National de Port-Cros, starts right across the island: the waters of those nudist beaches and creeks are truly blue and clean.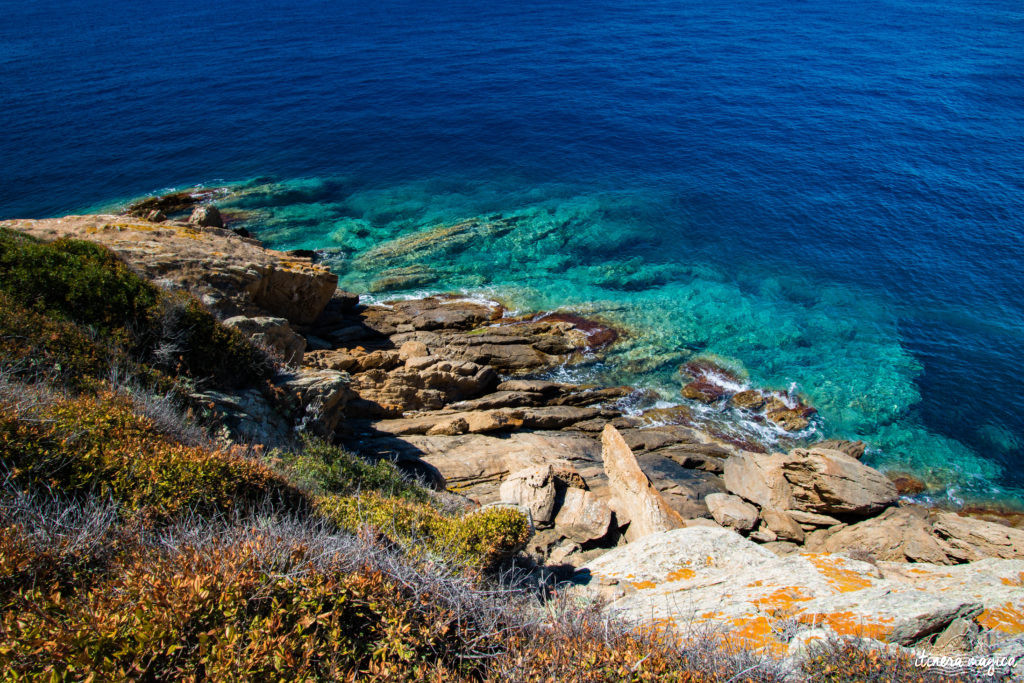 Do you have to be naked in Le Levant? Nudist rules
Le Levant is proud of its identity as a naturist island. Clothing is optional in the village, but downright prohibited on the beaches and the little coastal path by the sea. You'll find a nudist sand beach and several secluded and charming rocky creeks. If you don't feel comfortable with nudity, but crave for these pristine waters, go to the nearby island of Port-Cros: same waters, with clothed bathers. But if you're looking for a truly unique experience in a very peaceful, non-judging atmosphere, try out Le Levant. You will feel a great deal of freedom.
Hotels in Le Levant: affordable accommodation on the French Riviera
The village offers a wide range of accommodations, which are rather on the budget-friendly side. Prices are much lower than elsewhere on the French Riviera: they start at 45 euros for a hotel room, and you will get something really nice, with a pool, for 100 euros. Nearly all accommodations offer a fantastic sea view on all sides, it's something the island is famed for: the village stands on the top of a hill above the Mediterranean.
You will also find several restaurants, and even a small supermarket if you prefer cooking.
Getting to Le Levant by boat
You will have to take the boat either from Hyères or Le Lavandou to arrive on the island. A two-way ticket will cost approximately 30 euros.
What kind of atmosphere should you expect in Le Levant?
Get ready for uncomplicated, easy-going, laid-back nudism with people of all ages and sizes enjoying the sun in peace. LGBT readers will be pleased to know that Le Levant is a very gay-friendly place, where nobody will bother you. It's also a great place to meet nice people. The island is never crowded, even in the heart of summer, but there's party every night in July and August. With several bars and night clubs, the "Levantins" know how to enjoy themselves. People sometimes say that parties on the French Riviera are for show-offs and rich people, but Le Levant will prove you wrong: you'll find here relaxed, small but truly fun parties where it's easy to meet people. This is a friendly island which welcomes people with open arms, so go with the flow. Greet people you meet, make eye contact and say hi – friendliness is expected. But don't be a creep. Don't stare at naked people, don't take pictures without permission, don't behave like you're in a zoo. In short: don't make people uncomfortable.
Sexual activities on the open won't be tolerated: this is not a sex island. If you're looking for a swinger hotel, there are two adult-only hotels who are swinger-friendly (Le Rocher du Secret and La Brise Marine), but the rest of the island doesn't want to see any exhibitionist display.
Naked in the sun – how does it feel?
I had never tried nudism before visiting the island, and I was quickly convinced by the spirit which reigns here. People are friendly, but they let you be – nobody will stare or judge. It's a very hippie place, breathing with the freedom and casualness of the 70's. When Bougainville first arrived in Polynesia in the 18th century, he described his utter astonishment at the sight of naked women on the beach, and thought he had found a new garden Eden. Many people feel this way about Le Levant. This is more than a lovely nudist beach on the French Riviera, this is truly a little world, with its culture, history and atmosphere. The sea, naked people, good food – isn't it what France is truly about? 😉
Have you ever been on a nudist beach? Do you think you would enjoy the island of Le Levant?
Did you enjoy this post?
Please share it or pin it!

-
---
To keep track of Itinera Magica's travels, please like our Facebook page Facebook
or subscribe to our newsletter
---
Thank you for your support, and see you soon!
18 commentaires pour
"Secret paradise: Europe's only nudist island, Le Levant"
I currently live in the south of France (Nice) and have not been here! The beauuutiful waters and unique experience are enough to make me want to visit. I have to check out the best route to get there from Nice and check it out next summer! Thank you for posting this 😀

It's incredible! And your photos are perfect. I think we have now plans for January next year 🙂 Is it difficult to find there something for the night during the fest?

Are there any sandy beaches ? Est-ce que il y a des Plage's sable?

Hello Mark, yes there is one small sandy beach called Les Grottes, but it's not a big, long sandy beach just like the ones you would find on Porquerolles. Porquerolles has definitely the best sandy beaches. Le Levant is rockier. Apart from Les Grottes, the others are made of rock.

How do I obtain a brochure or more information on accomodation available with prices? Which is the nearest Airport Nice or Marseilles? We have previously stated in Salernes but always wanted to go to Levant

The nearest airport is Hyères-Toulon, only a few kilometres away, you can go directly to the island with a water taxi. I would suggest checking the official website of Le Levant for all prices 🙂

We are both nudist and hope to visit someday. Personally, I'd be happy if I never had to wear clothes again. We have been to Valalta Resort in Croatia and loved that.

were is la levant nudist island please let me know thanks.

As staten in the article, it's off the coast of Hyères in southern france 🙂

if my wife want to be topless not nude is it ok or not

Yes, it's ok!

I have never thought about a place like this, wow, the world is so huge!

My husband have been to this location. My husband and myself are nudest. My husband and I seek out locations are always seeking locations where we can take nudest vacations.

The famous place! Thank you for sharing!

[…] Secret paradise: Europe's only nudist island, Le Levant […]

I'll be heading there as soon as this pandemic is no longer keeping us at home

C'est magnifique, si je peux habiter dans cette island

[…] ar putea părea ciudat, dar în Heliopolis, încă de la începuturi, oamenilor nu li s-a interzis să meargă goi nicăieri. Așa se face că […]
Leave a comment
---