The olive tree road in Provence, off the beaten track
-
The olive tree road in Provence is a delicacy for connoisseurs, foodies and true lovers of the sunny, authentic side of France. Do you want to experience Provence far away from the crowds, and enjoy picturesque hilltop villages, lavender fields, vineyards and strong traditions off the beaten track? Let me take you to the region where I grew up, in northern Provence.
An itinerary has been designed for drivers, hikers and cyclists to enjoy. This 90-kilometer-long pathway leads you right into the heart of an authentic Provence, with delicious specialties and stunning landscapes: the "Route de l'olivier", in English, the olive tree road in Provence.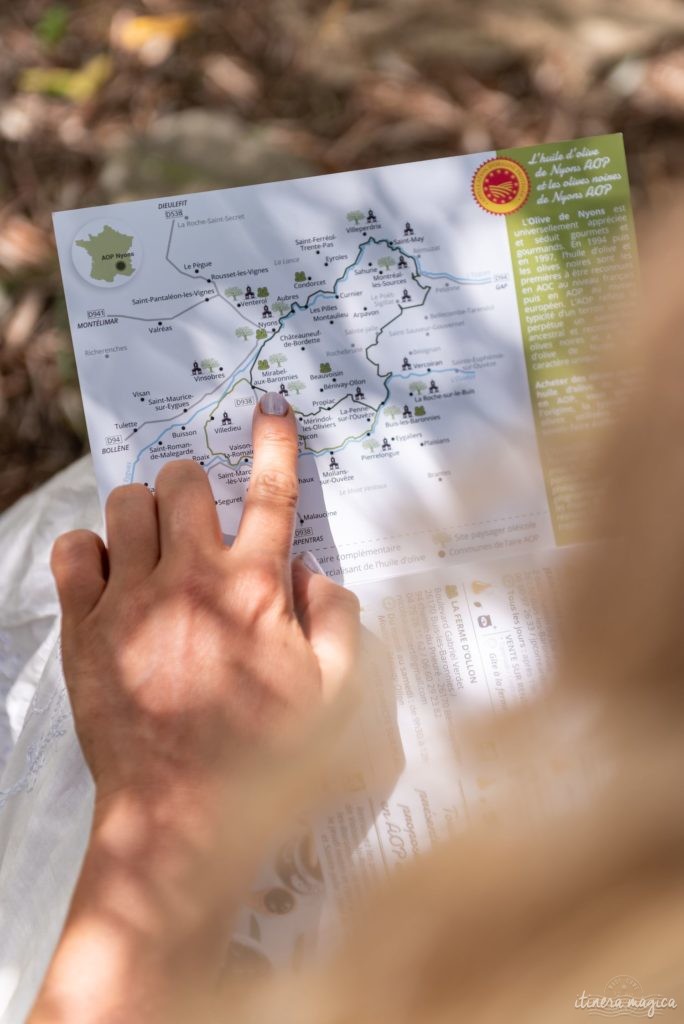 Forget overcrowded places. Head for Provence's lesser known, but incredibly beautiful northern mountain range, into the natural park of the Baronnies provençales. The olive tree road meanders through valleys carved by deep blue rivers, stops by perfectly iconic towns such as Nyons, will lead you to tourist-empty lavender fields and, of course, magnificent olive tree orchards. When you follow the olive tree road, you'll be rewarded with old mills, ancient abbeys, fields of flowers, olives and vine, all picture-perfect visions of a timeless Provençal idyll.
And most importantly, you will also discover my very favorite olive in the world: Nyons' famous black olive, considered to be France's finest table olives. Both the black table olives and the olive oil are labelled with an European protected designation of origin (PDO): "olive de Nyons AOP". I will also tell you more about those exquisite products you must absolutely try and taste when driving along the olive tree road in Provence!

Those olives are a real delicacy and have perfectly encaptured the sunny, authentic taste of true Provence.
The olive tree road in Provence
You'll find here the complete itinerary of the olive tree road in Provence with all waypoints. Make sure to stop by a mill or a shop to have an olive tasting. But now, let me take you along this road, and show you some of my favorite spots…
Nyons, beautiful capital city of the olive
Nyons has always been my very favorite city in Northern Provence. This picturesque little city possesses an undeniable flair, and there are a few things you must see in Nyons. The Roman bridge is one of them. This beautiful medieval bridge steps over the river Eygues, which takes a vibrant blue shade in summer. You can bathe in those crystal-clear waters, and enjoy a great view over Nyons.
Make also sure to check out Nyons' 19th century chapel, with its bell tower resembling fine lace. Stroll through the old city center, stop by the market place with its ancient arcades, and buy olive, fruits, cheese and meats directly from the producers. Nyons tastes sunny and colorful!
Buis-les-Baronnies, city of climbers and mountaineers
Deeper into Provence's high country, the olive tree road will take you to the quaint little city of Buis-les-Baronnies, which is overlooked by Provence's most famous mountain, the Mont Ventoux. The iconic silhouette of this white bald giant dwarfs the cute little streets of the city center, where many fountains freshen the hot summer air. Buis-les-Baronnies is beloved by climbers: it is surrendered by famous and challenging cliffs and boulders, such as the Rocher Saint Julien. Many cyclists also come to defy the steep slopes of this world-famous mountain.
Ancient olive trees in Villeperdrix
Did you know an olive tree is practically immortal? Nobody knows how old exactly those magnificent trees can get – in Greece, some of them are over 3000 years old, and in Jerusalem, some have witnessed Jesus' final hours in the garden of Gethsemani! The oldest trees you'll see on the olive tree road are in Villeperdrix, on a beautiful path called "sentier de l'olivier". You will rise above the village and find yourself amid the mountains, surrounded by century old trees with their tortuous trunks looking like pieces of fine art. It is in my opinion one of the most beautiful spots on the olive tree road in Provence.
Picture-perfect villages on the olive tree road in Provence
The itinerary has been carefully designed so that you'll hit all the most beautiful villages around, and it's an absolute delight to follow the trail.
In Mirabel-aux-Baronnies, make sure to stop by the chapel Notre Dame de Beaulieu, which will remind you of Tuscany with its paintbrush-shapes cypress trees and the vineyards surrounding it.
In Puyméras, enjoy the old castle and hilltop church, the facades of the old houses straight out of a painting.
In Faucon, marvel at the magnificent ruins and the view on Mont Ventoux, take a break and have an ice cream under the plane trees sitting on a balcony overlooking a gorgeous panorama.
In Villedieu, have dinner or coffee on the market place, with its retro-looking restaurants and bars which make you feel like you travelled through time.
In Villeperdrix and Saint May, escape the 21th century, lose yourself in those magical tiny villages which look like they came straight out of the Middle Ages, on top of a hill with narrow winding cobbled streets. I must confess Saint May is one of my very favorite villages, with its otherworldly graveyard at the very top of the steep, vertigo-defying hilltop village, and its deep blue canyon where it's a pleasure to bathe.
Let me share a secret with you: Saint May is an incredible place to have a swim amid pristine waterfalls and rocky landscapes.
Lavender fields and salvia: purple hues of Provence
The olive tree road is the perfect spot to admire lavender in a more private setting, away from the crazy crowds which flock towards Valensole or Sénanque. My favorite place to dive into sweet-smelling lavender fields is the Col d'Ey, a mountain pass overlooking Buis-les-Baronnies. With the higher altitudes, lavender will bloom there from the end of June until around the 20th of July, but even sometimes until the very first days of August if you're lucky. You'll be facing an infinite patchwork of lavender fields, with a few pink spots of salvia among them. I love the late afternoon light, when the descending sun hits the spot and bathes the flowers in an eerie golden hue.
Stop by and taste Provence's most delicious olives
There's a reason Nyons' black olive is so renowned. To benefit from the PDO label which guarantees top quality, olives must be picked when they are perfectly ripe, and have the sweet, fruity taste we French people associate with this very special black olive. Olive oil made in Nyons is never bitter or spicy, but fruity, sweet, buttery. Once you've tasted it, it will be hard to go back to a regular, no-label olive oil! There are many places on the olive tree road where you can stop, try and buy products. In Nyons, visit the olive tree museum (Musée de l'Olive) or the old oil mill (Les Vieux moulins) to learn more about the ancient traditions and find all products. But you can also stop directly at a producer's farm.
We slept at La Ferme Brès, a beautiful orchard owned by the 7th generation of farmers – they sell olives, oil and also this delicious specialty I urge you to try, which is called "affinade". Affinade is a mash of black olives with a few drops of olive oil, with no other additive – it's scrumptious, trust me!
In Buis-les-Baronnies, we visited the Moulin de Haute-Provence, where a father and his son have been pressing and selling the finest olive oil since 1977. But these are only two examples among many – the olive tree road counts many farmers who will welcome and treat you!
Maybe you'll be tempted to try some recipes with black olive after your trip – if you read a bit of French or if you're willing to use Google translate, please head to my blog post featuring delicious salty and sweet recipes with black olives, olive oil and affinade. Other products from the Baronnies region come in the mix, such as the famous Baronnies' apricot (a big, sweet apricot with flesh both tender and firm, my favorite one!) or the DPO Baronnies' white wine.
I hope you'll enjoy your time visiting this gorgeous natural park and its many beautiful villages. And I hope you'll have a black olive feast!
Every picture featuring me is the work of my dear friend, travel partner and colleague Marion Carcel, professional photographer under the name Foehn Photographie.
Did you enjoy this post?
Please share it or pin it!

-
---
To keep track of Itinera Magica's travels, please like our Facebook page Facebook
or subscribe to our newsletter
---
Thank you for your support, and see you soon!