Authentic Savoyard experiences in Saint Martin de Belleville, French Alps
-
Have you ever heard of Saint Martin de Belleville? Located in the heart of the biggest ski area in the world, 3 Vallées in the French Alps, Saint Martin de Belleville is one of the seven ski resorts which form the huge interconnected area with its 332 slopes. But this beautiful historic village has so much more to offer. With its exceptional historic and cultural heritage and its magnificent baroque chapels dating back to the 17th century, Saint Martin de Belleville is a real gem. No high buildings can block the view, you will only find charming chalets and historic houses, and the authentic atmosphere of a Savoyard village. With wide, untouched natural areas, Saint Martin de Belleville is also the perfect place to enjoy the Alps in all their quietness and beauty, and to try out fun and relaxing outdoor activities, such as snowshoeing or snow-yoga. And when you need a place to unwind by the fire after a long day in the snow, you will find beautiful lodging options: with its chic chalets and fine-dining options, the elegant village of Saint Martin de Belleville is the perfect place for a romantic get-away in the Alps.
What to do in Saint Marin de Belleville? Let me give you a few ideas of things to do in Saint Martin de Belleville, places to see and awesome activities to experience.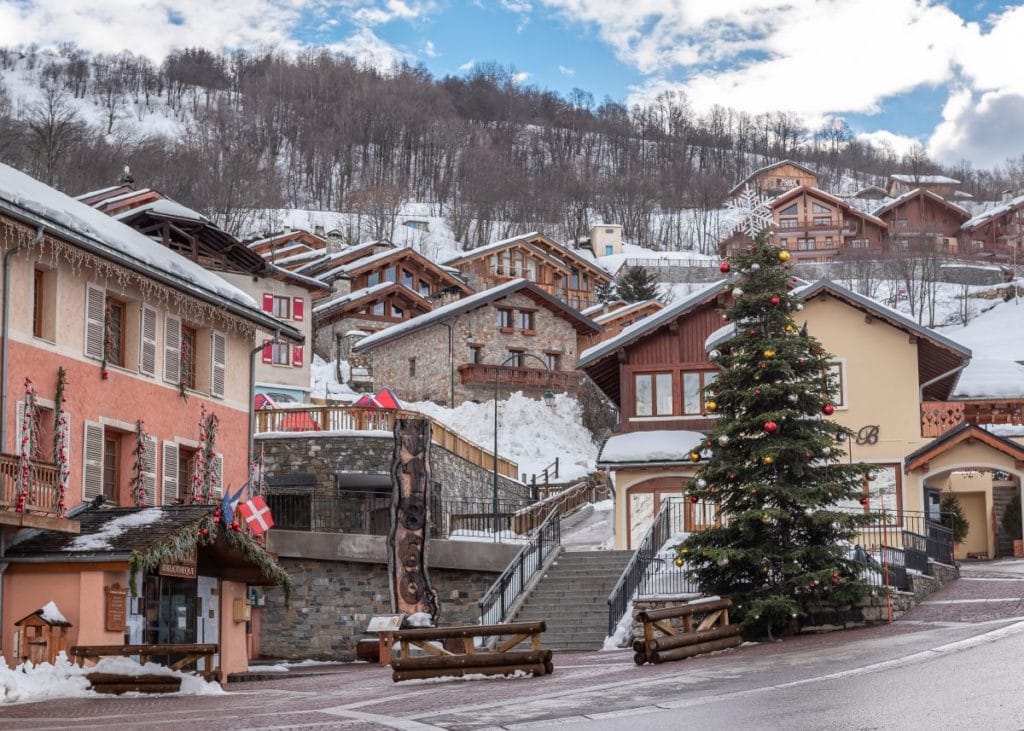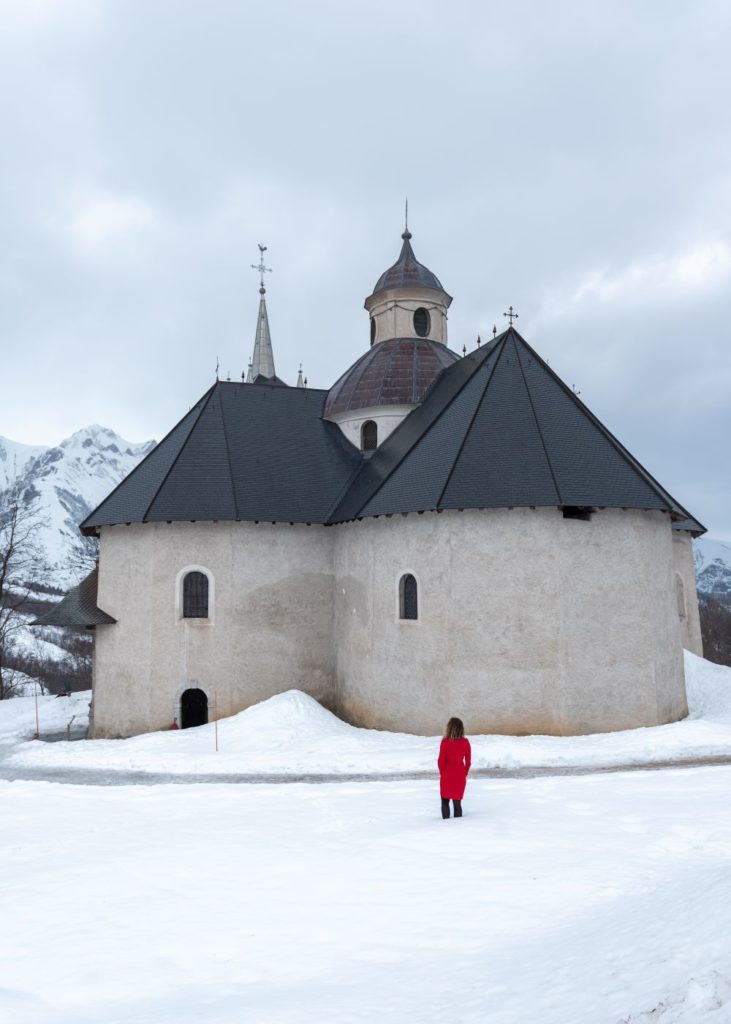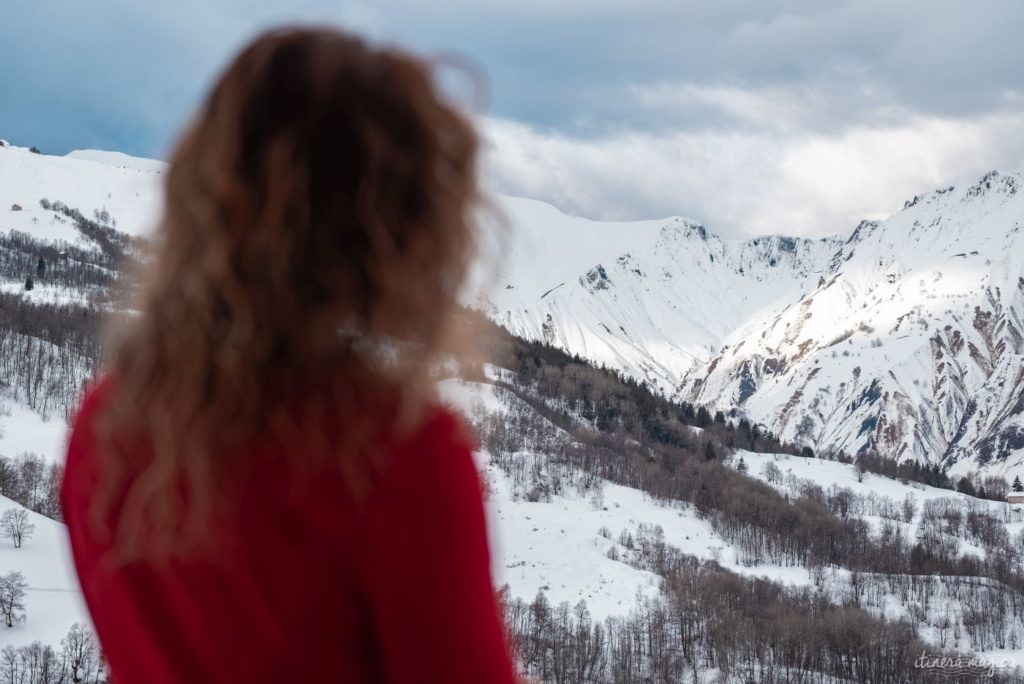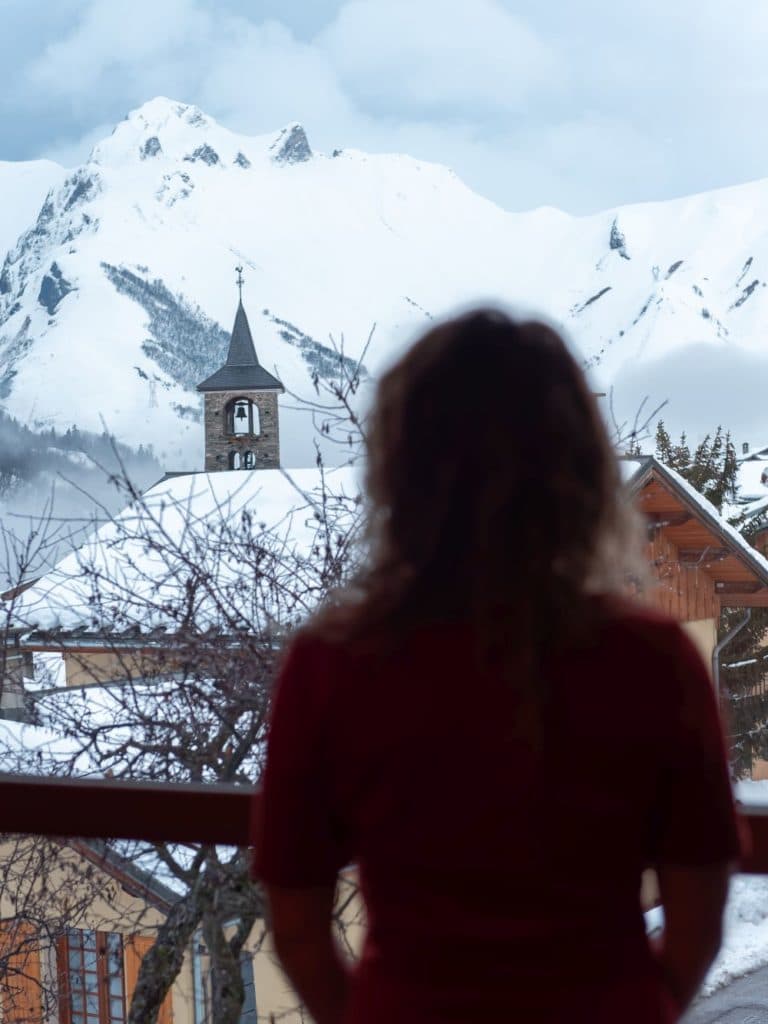 What to do in Saint Martin de Belleville? Stroll through this authentic Savoyard village
Did you know that until the end of the 19th century, the Alpine region of Savoie was an independent kingdom, rich with its own fascinating history? Savoie has been made a part of France in 1860, but a very strong local identity and beautiful traditions when it comes to architecture, food and culture remain. Saint Martin de Belleville has kept the identity and the beauty of an authentic Savoyard village. If you stroll through the village, or even better, take a guided tour through it, you'll love the old historic houses, the narrow cobbled streets, the ancient graves in the cemetery, and look for the many details which tell of its long history – can you spot the red and white Savoyard flags, or the tree bearing the date 1860?
Like many historic villages in the Alps, life in Saint Martin de Belleville has been shaped by agriculture for centuries. Already in baroque times, the country of Savoie was famed for its delicious Beaufort cheese – a luxury cheese, which used a lot of milk, had to age in very precise conditions, and could be sold for a high price. Villagers brought the herds of cows up in the high alpine pastures during the summertime, and took them down to the valley during the winter months. Keeping the cows inside the house brought some warmth to the cold stone walls. If you go to the historic museum "Musée de Saint Martin de Belleville", you'll be able to see a genuine traditional Savoyard home dating back to the 1950s, with historic objects, and a fascinating exhibition which retraces life in the French Alps as the elders have known it.
Marvel at the wonderful baroque chapel Notre Dame de la Vie
I already had the chance to admire beautiful baroque architecture in the Austrian Alps, but Savoie is world-renowned for the beauty of its preserved baroque churches. During the Catholic counter-reform in the 17th century, the rulers of Savoie used their wealth and power to build magnificent churches as a banner of their faith. The region counts more than 80 baroque monuments which are recognized as a cultural heritage of high value and significance. You will recognize them by the tulip-bulb shaped church towers, the richly ornamented interiors covered in gold, and the spectacular altarpieces we call "retables".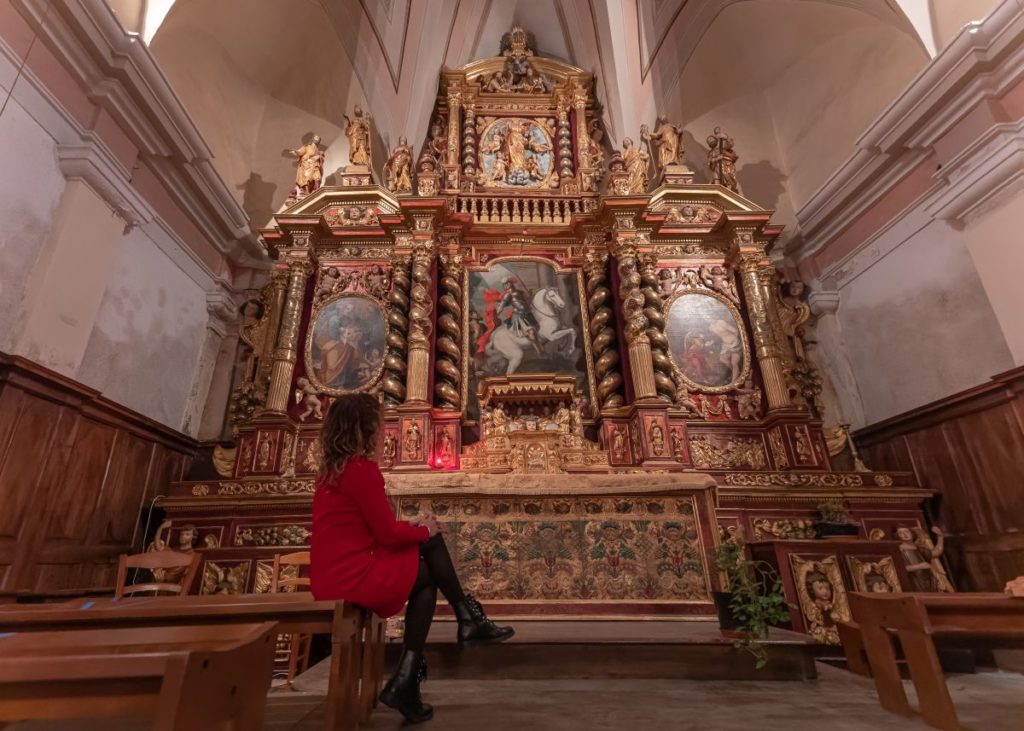 I absolutely love all baroque churches and houses in Savoie, but one of the most striking ones is located in Saint Martin de Belleville: the iconic, picture-perfect chapel Notre Dame de la Vie. Overlooking the village, it stands alone facing the white slopes of the mountains, the perfect shape of its bulbs crowning the distant summits.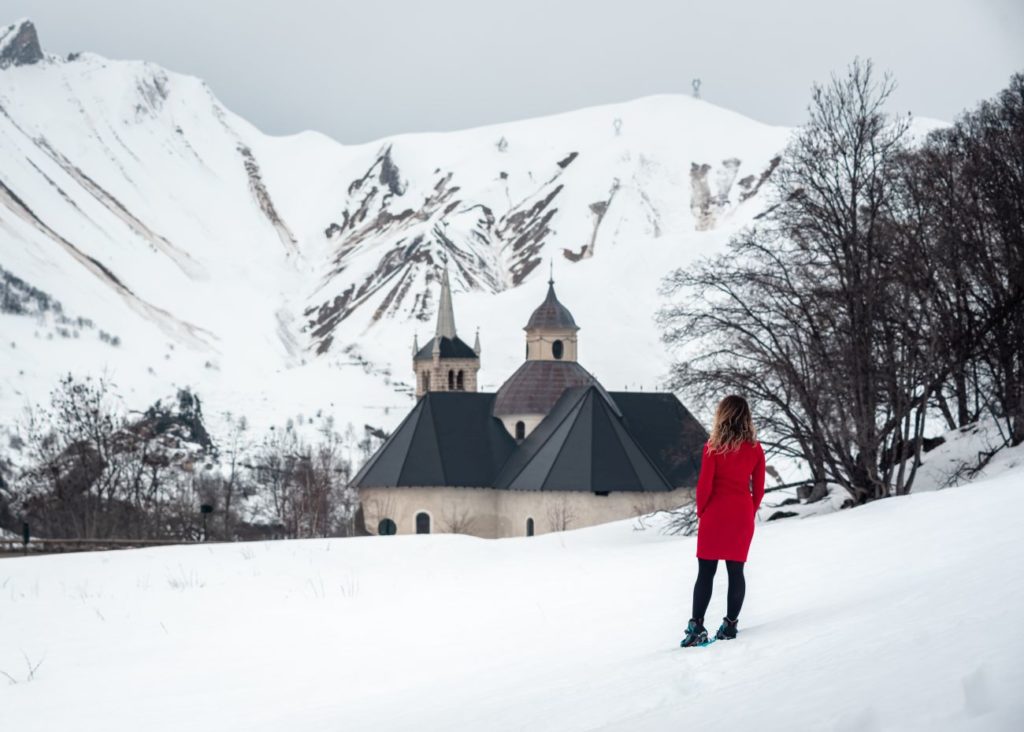 Notre Dame de la Vie has always been a fascinating site, already before Christian times: the spring which flows at the top of the hill was rumored to possess magical properties in Celtic heathen times. A catholic church was built in the Middle Ages, to be transformed during the baroque era. An apparition of the Virgin Mary to a young peasant drew thousands of travelers to this renowned pilgrimage site. The beautifully ornamented church is covered in ex-votos thanking the mother of God for miracles occurring after the pilgrimage.
Don't forget another gorgeous baroque church in the heart of the village, with three fantastic altarpieces which embody the artful splendor and glory of those golden ages. If you speak a bit of French, you can join a sensorial guided tour of one of the churches, which will plunge you into the baroque era by calling to your five senses. Magnificent music, incense smells, hands on centuries old objects… we really enjoyed the experience.
Go visit a goat-farm and go to a cheese market in Saint Martin de Belleville
Agriculture remains an important part of life in the French Alps, and Savoie produces amazing cheese. At the farm "Ferme du Villarenger", you'll be able to cuddle with the baby goats and see how artisanal goat cheese is produced by a mother and her daughter.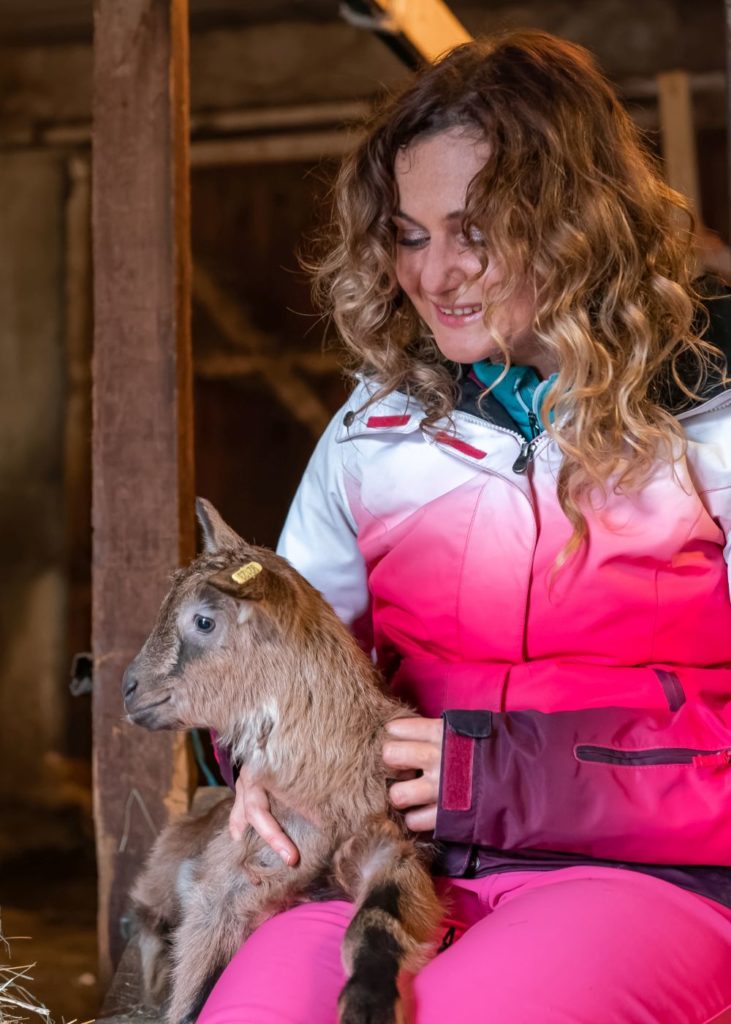 Back in the village, go to the shop "Au coin des producteurs" to buy different sorts of mountain cheese from local farmers. Don't forget to try Savoie's most famous cheeses: the Beaufort and the Reblochon, my two absolute favorites!
You can order cheese specialties but also many other dishes in Saint Martin de Belleville's many fine restaurants – there are many to try out, but we had a huge crush on Le Montagnard and the Bistrot Simple et Meilleur!
Take a snowshoeing trip in the wilderness
Do you need to forget about the stress of daily life and dive into a world of silence and beauty? I have always found that a hike in snowshoes is the perfect way to get away from it all and experience the Alps in all their pure beauty. We followed Nicolas, a very kind guide from the ski-school ESF, into the wildest and most remote parts of the valley. In his binocular glasses, we saw mountain goats and stags grazing on the steep slopes, looking for fresh grass under the snow. We admired traditional houses and beautiful mountain landscapes, and drank homemade génépi, Savoie's traditional alpine alcohol. All in all a perfect afternoon!
Breathe deeply and enjoy snow-yoga in the Valley des Belleville
Keep on unwinding with this peaceful outdoor activity which takes place in the most beautiful natural setting: mindfulness walk and snow yoga. You will walk in silence along a river, focusing on every breath and step you take, and enjoy several small yoga sessions in the snow. The teacher, Anita, will help you get in a state of calm and serenity the mountains will only enhance. Aren't the Alps the perfect place to reset your body and mind?
Other fun outdoor activities to enjoy in Saint Martin de Belleville
Of course, skiers will be delighted, since the 3 Vallées ski area is simply the largest one in the world! Ski lifts will connect you right from the heart of the village directly to the huge slopes. But there are many other fun things to try out! Have you ever tried biathlon? It combines cross-country skiing with precision rifle shooting – it's fun and it will make you feel like an Olympian! I was very proud of my shooting score: I hit all 5 targets. Even beginners can have fun at it!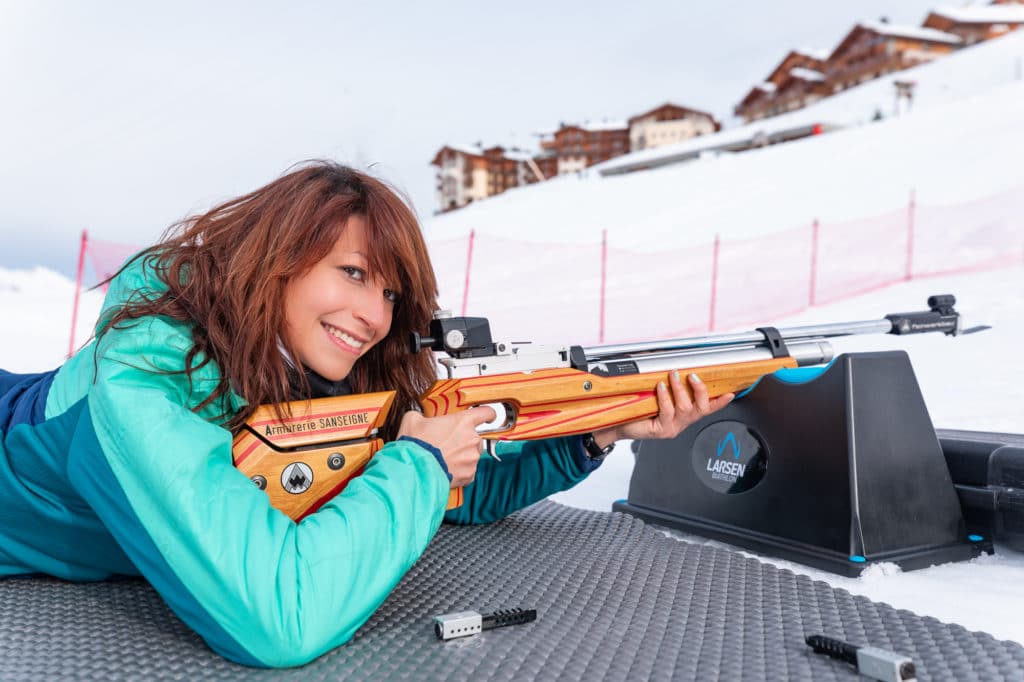 A 5-star experience at a luxury Alpine hotel: La Bouitte
One of the things I loved the most about Saint Martin de Belleville is the refined, elegant atmosphere of this beautiful historic village. Many gourmet restaurants and chic hotels are to be found in this romantic destination.
Saint Martin is home to a truly mythical establishment: 5 star-hotel and Michelin 3 star-restaurant La Bouitte. This place is the epitome of luxury and hospitality, all in alpine style! The beautifully furnished rooms and dining halls combine traditional Savoyard architecture with creative design, all blended in a perfect mix of coziness and warmth. In the Meilleur family's kitchen, a father and his son are both stellar star-chefs, who use the best locally produced Alpine ingredients to create world-renowned dishes. I can't wait to return here and dine in this exceptional restaurant!
But I think our very favorite experience at La Bouitte was the mountain spa. It recreates the atmosphere of a mountain lake, with peaceful waterfalls and wooden tubs out in the snow. And it enables you to experience the power of traditional Alpine plants, with a complete line of signature products, hay baths, and powerful herb massages which call to the ancestral wisdom of the mountains. It was a truly relaxing moment!
The perfect romantic chalet in the Alps: Chalet Caseblanche
Do you want to spend the perfect alpine holiday with your partner, friends or family? The Chalet Caseblanche mountain chalets can host up to 6 people, and they have everything you can dream of: an absolutely breathtaking view over the snow-capped mountains, a cozy fireplace, big, comfortable, warm beds and couches, your own private sauna, a fully equipped kitchen, and all the appliances and items you might need for a luxury carefree stay in the mountains. We absolutely loved our time in this beautiful, picture-perfect chalet, and we dream of coming back with our loved ones for a longer stay!
The chalets are located next to a very nice snack and local grocery store, Bell'Savoie. We bought our breakfasts there. The staff is friendly and you'll find many delicious alpine products to enjoy by the fireplace at your chalet.
We really enjoyed our stay in Saint Martin de Belleville and we fell in love even deeper with the marvelous landscapes and the authentic traditions of Savoie. Now that you know what to do in Saint Martin de Belleville… when will you go?

I went to Saint Martin de Belleville with my dear friend and colleague Marion Carcel, a talented professional photographer based in Lyon, France. Not only does she shoot landscapes and outdoor activities, but also weddings and portraits. All pictures are hers.
What to do in Saint Martin de Belleville – Things to do in Saint Martin de Belleville – Savoie, French Alps
Did you enjoy this post?
Please share it or pin it!

-
---
To keep track of Itinera Magica's travels, please like our Facebook page Facebook
or subscribe to our newsletter
---
Thank you for your support, and see you soon!